Metal Toxicity Testing in Edmonton
We offer Heavy Metal Testing and Treatment
Heavy metal toxicity is an occasional cause of mysterious or insidious health concerns.
Lead, mercury, cadmium and arsenic are usually the leading implicated heavy metals.
Our office offers urinary challenge testing with dmsa as the provocative agent.
We offer oral and intravenous chelation options if a toxicity is confirmed.
Heavy metals are often considered in neurologic, cardiovascular and autoimmune concerns.
Mercury
Mercury toxicity is classically associated with Multiple Sclerosis and Thyroid dysfunction (both regular Thyroid dysfunction and autoimmune) as well as other autoimmune diseases like Lupus and therefore mercury is a consideration of our Naturopathic Doctors in autoimmunity.
Mercury is thought to either change the way proteins in different body tissues appear to the immune system or changes the behaviour of the immune system itself.
Mercury is thought to be implicated in some cases of Autism.
Other symptoms of toxicity include - fatigue (the most common symptom seen), irritability, behavioral changes, tremors, headaches, hearing and cognitive changes, memory loss, and incoordination when mercury acts primarily in the central nervous system.
In the cardiovascular system, mercury causes increased blood pressure and contributes to atherosclerosis, heart disease and kidney dysfunction.
Mercury sources include: mercury in the atmosphere, in dental amalgams and in seafood.
Lead
Lead toxicity can cause muscle weakness and pain, fatigue, attention issues, headaches, insomnia, personality changes, neuropathy, altered sensation, low libido, memory loss and abdominal pain.
Lead sources include: the soil, air and in residues of lead-based paint and cookware glazes and crystal as well as foreign herbal medicines, cosmetics and children's jewellery and apparently water in Edmonton (and likely other places as well!!).
Occupational exposures for lead includes electricians, plumbers and painters.
Lead is a contributor to cardiovascular disease as it causes oxidative stress, lipid peroxidation, nitric oxide inactivation and kidney dysfunction.
Cadmium & Arsenic
Cadmium is an inhibitor of the enzyme which converts T4 (thyroid hormone) to the active form T3. Excess cadmium exerts negative effects on many systems including renal, cardiovascular, pulmonary and
neurologic.
Arsenic is related to neuropathy as well as increased heart attack risk, cancer and diabetes.
Cadmium and arsenic sources include: cigarette smoke and arsenic is notoriously found in rice (grown in contaminated areas) and well water. Some cadmium is present in food. Organ meats (kidney, liver) and leafy vegetables such as lettuce and spinach tend to be higher in cadmium as well as rice like arsenic.
Cadmium is also high in seafood. Batteries, solder and children's jewellery are also high in cadmium.
Heavy Metal Testing
Unfortunately, blood testing for any of these metals is only a reflection of recent or ongoing exposures (as per the half-life of the substance in question) and does not give us an accurate depiction of previous or stored exposures.
RBC tests only show exposure over the previous 90 days. Hair tests are not considered accurate since levels appear dependent on individual metal excretion mechanisms.
Therefore, functional medicine and Naturopathic practitioners usually rely on a pre and post provocative urine test using a challenge agent like DMSA.
DMSA (dimercaptosuccinic acid) is a sulfur based, non-toxic, orally administered metal chelator, which was originally used as an antidote to acute heavy metal exposure.
More recent research supports this compound's efficacy and safety as the premier metal chelation substance.
Its efficacy has also been confirmed in our clinical observations and the observations of many Naturopathic doctor colleagues.
DMSA conveniently has significant affinity for mercury, lead, cadmium and arsenic and is extremely low cost and well tolerated.
Challenge testing that our Naturopaths suggest typically involves abstaining from multivitamin and mineral preparations as well as seafood and seaweed in the week prior to testing.
A first morning urine sample is taken "pre" provocation and then another sample is taken after a challenge agent like DMSA is taken (after a 6 hour urine collection commonly). This is then sent to our affiliate lab for analysis.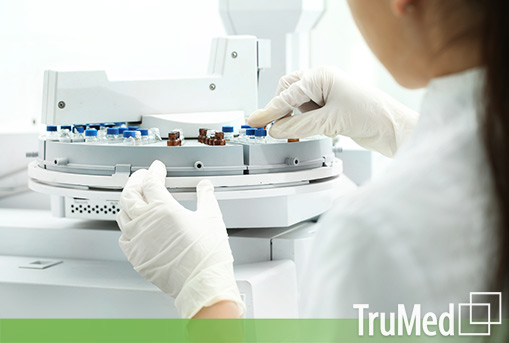 Heavy Metal Toxicity Testing in Edmonton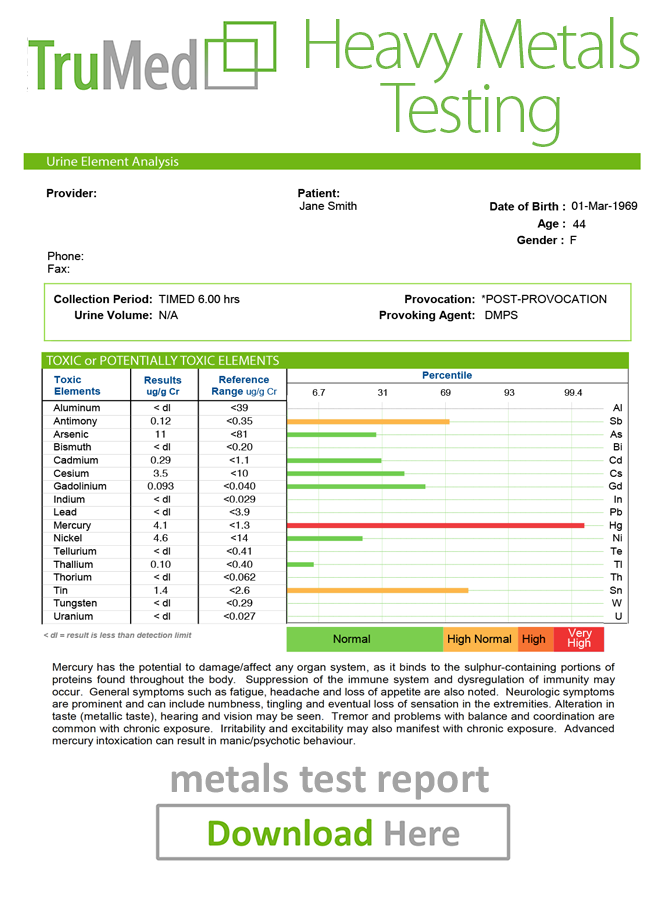 We can accurately measure
your heavy metal levels
Our Naturopathic doctors always run robust workups for fatigue, cardiovascular disease, cognitive dysfunction, chronic fatigue & fibromyalgia and autoimmune diseases which often includes heavy metal assessment.
We also consider metals in autism as well and they also may have an impact on susceptibility to ADHD.
For fatigue in particular, after basic hormonal and nutritional areas are evaluated our Naturopathic Doctors may explore heavy metal toxicity and have seen elevated mercury as an issue in our Edmonton patients.
Heavy Metal removal can be done either orally or intravenously.

Naturopathic Doctors typically deal with Mercury toxicity orally with DMSA or intravenous EDTA.
Get your metal levels tested.
Connect with TruMed NDs
(780) 757-8378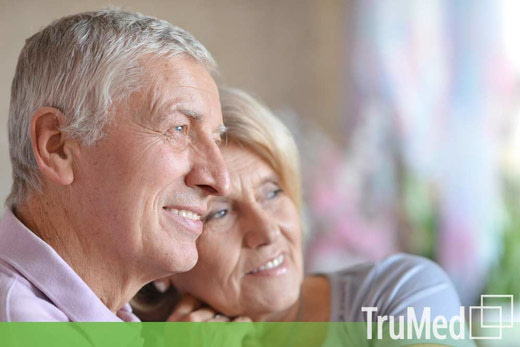 TruMed Naturopathic Clinic offers Advanced Cardiovascular treatments.Plaquex therapy and treatments for Heart Disease.