Metabolic Cancer Treatment in Edmonton
Our Naturopaths work with Metabolic Cancer treatments
Metabolic Cancer Care
Cancer cells metabolism is different from that of normal cells. Cancer cells are more metabolically active, have higher proliferation rate and could able to resist programmed cell death pathways (apoptosis). Cancer cells produce energy from lactic acid fermentation after glycolysis (termed aerobic glycolysis, that is, it occurs in Cancer cells even in the presence of oxygen) - called the Warburg effect. This process takes substantially more glucose to produce ATP for a cancer cell - it is an inefficient process.
Our Naturopaths take advantage of these altered metabolic pathways and use treatments that can encourage normal energy production pathways versus the pathways preferred by the Cancer cells.
Our Naturopathic Doctors use therapies like Benfotiamine (B1) to stimulate the mitochondrial Pyruvate Dehydrogenase Complex (converts pyruvate to acetyl coenzyme A "acetyl CoA") and standard mitochondrial aerobic respiration pathways. We also use Intravenous treatments like Alpha Lipoic Acid to inhibit Pyruvate Dehydrogenase Kinase (causing a reversal of Warburg effect in cancer)
*Our Naturopaths work with compassionate prescribers to provide access to oral off label cancer treatment like LDN and Metformin in Edmonton which are synergistic with other natural metabolic treatments like IV Alpha Lipoic Acid IV.
Top Metabolic Cancer Treatments

Alpha Lipoic Acid - as already mentioned, IV ALA inhibits Pyruvate Dehydrogenase Kinase and can reverse the Warburg effect in cancer. Our Naturopathic Doctors make use of Lipoic acid as it has impressive case reports in many cancers including pancreatic cancer.
Berberine - Activates AMPK (similar to metformin) which directly stimulates new mitochondrial production which can provide the signal for apoptosis to Cancer cells. Additive blood sugar lowering effects from Berberine are also welcome by our Naturopaths in alternative cancer care.
Acetyl-L-Carnitine - "ALCAR" restores beta-oxidation of fatty acids to acetyl-coA a crucial first step of Oxidative Phosphorylation "OXPHOS" - Our Naturopathic Doctors also find it helpful for preventing neuropathy from some chemotherapies.

Quercetin - Not classically thought of as a Metabolic cancer treatment, our Naturopaths use it as a Hexokinase inhibitor - it inhibits mitochondrial membrane-bound hexokinase II which supports glycolysis. Our Naturopaths find synergy between Quercetin, Curcumin, Green Tea Extract and Grape seed extract.
Niacinamide - As a precursor to NAD+, it may promote mitochondrial respiration by providing additional subsrtate and push the cell metabolism away from aerobic glycolysis. This is probably our least favorite metabolic therapy as NAD+ is thought to be potentially problematic in cancer care.
CoQ10 & PQQ - CoQ10 is needed for electron transport in oxidative respiration - essential to standard ATP
production. PQQ is actually similar to Berberine and Metformin in that it helps stimulate mitochondrial biogenesis but it works synergistically with CoQ10 as a mitochondrial anti-oxidant.
Ketogenic Diet - By dramatically reducing glucose intake, there is naturally less substrate for aerobic glycolysis. Therefore our Naturopathic doctors often counsel our Edmonton Cancer patients on incorporating a Ketogenic Diet as part of their alternative cancer plan.


Metabolic Cancer therapies are used by our Naturopaths in many common Cancers including Breast, Colon, Lung, Prostate cancer, Melanoma and Lymphoma.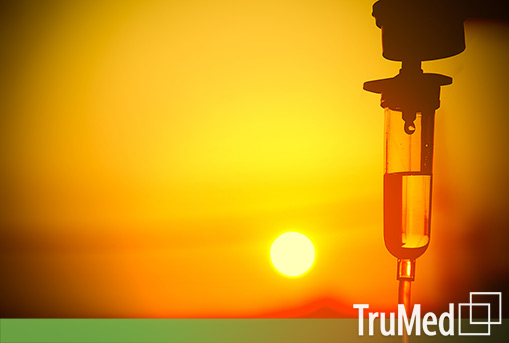 Experienced in Alternative Cancer Care
Oxidative Cancer Treatments
Artemesinin is originally a derivative used for Malaria.
Artesunate is an Artemesinin derivative.
Artemesinin can be used alongside IV Vitamin C as they are synergistic.

Wormwood Derivatives and High Dose IV Vitamin C are considered oxidative cancer treatments. That is, they damage cancer cells through production of reactive oxygen radicals. Our Naturopathic doctors frequently pair Wormwood derivatives with IV Vitamin C for treatment of numerous cancers.
There is accumulating data on wormwood derivatives and various cancers. Artesunate and Artemesinin are somewhat interchangeable as they both convert into DHA (dihydroartemesinin).

At our clinic our Naturopaths use Artemesinin to treat Colon, Breast, Lung Cancer and Melanoma and Prostate Cancer.

Our Naturopathic Doctors often see patients requiring support after they have exhausted conventional options. We work with some of the most advanced alternative cancer therapies including Artemesinin, ALA, LDN* and IV Vitamin C.

*We work with compassionate prescribers to provide access to oral off label cancer treatment like LDN in Edmonton.
Need Advice?
Get in touch.
(780) 757-8378