Food Sensitivity Testing in Edmonton
We're experienced with food sensitivities at our Edmonton Clinic.
IBS, Gas, bloating, diarrhea, constipation are common reasons our Naturopaths use Food Sensitivity Testing.
We see many of our Edmonton patients deal with food sensitivities especially to common allergens. If the reactions are relatively rapid, your Naturopath might suggest Food Allergy Testing as an alternative.

Migraines, Asthma, Eczema and Psoriasis also often have sensitive foods.
We've seen tremendous results in many conditions when sensitive foods are found and eliminated.

Our Naturopathic Doctors also have success in Inflammatory Bowel disease: Crohn's Disease and Ulcerative Colitis, using food sensitivity testing.

Unexplained weight gain can also frequently be improved with identification and removal of provocative foods.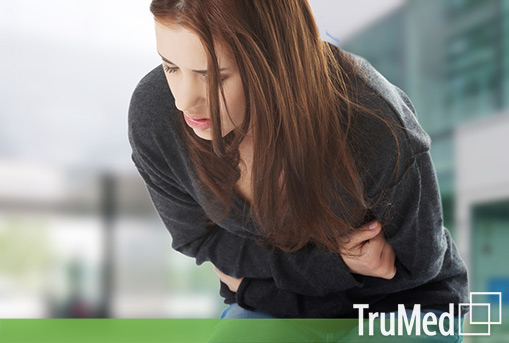 Experienced with food sensitivities.
With many digestive issues our Naturopaths often start with Food Sensitivity Testing.

Often times, this can dramatically improve a case. It is absolutely crucial to understand what foods your body is reacting to. This allows our Naturopathic Doctors to make individualized dietary recommendations that are specific to you.

As a Naturopath, Dr. Muradov is well experienced in Food Sensitivities and Intolerances. Dr. Muradov has run several thousand Food Sensitivity and Allergy tests in his Edmonton patients.

At our clinic, we usually use Food sensitivity & Intolerance testing as a foundation before more advanced digestive testing (eg. CDSA, SIBO, Candida etc).
Food Sensitivity FAQ
What does Food sensitivity testing measure?
Our Food Sensitivity Tests measure antibodies (specifically IgG antibodies) that are produced in response to the foods you consume. It is normal to produce a small amount of these however when they are produced in large amounts, the combination of the food (the antigen) and antibody can deposit in different areas around the body and cause various symptoms.
How many foods can you test for?
At our Naturopath Clinic we can test between 120 and 200 foods with our standard Food Sensitivity Test. Your Naturopath at TruMed will help you choose the right test and the appropriate amount of foods for your case.
How long does it take to get my results?
On average, our patients get Food Sensitivity Test results in 2-3 weeks after testing.
Do I need a consultation before testing?
Yes, you do need a consultation with one of our Naturopaths. However, the 20 minute initial consult cost is included in your Food Sensitivity Test cost. You also get a free 10 minute follow up 2-3 weeks later to review your results with one of our Naturopathic Doctors as well.
What do your Food Sensitivity Tests cost?
Our standard 120 Foods test is $465 and 200 Foods test is $665 - these both include a brief consultation with a Naturopath before testing and another a few weeks later to review your test results.
Sample Reports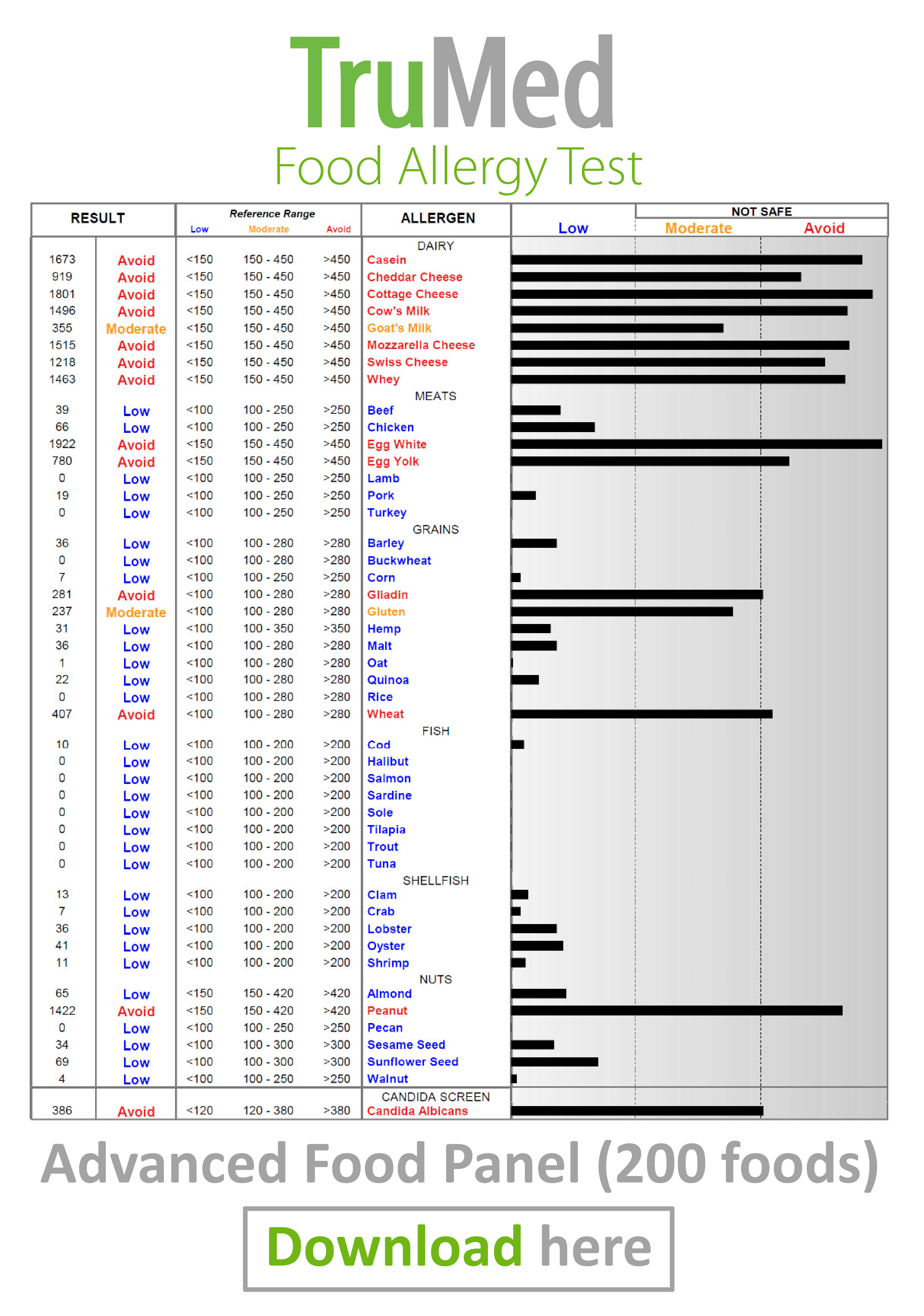 Food Allergies & Sensitivities associated with:

Gas & Bloating




Rashes / Hives




Psoriasis, Eczema




Sinusitis




Constipation & Diarrhea




Migraines & Headaches




ADHD




Arthritis




Asthma & Bronchitis

Sinusitis

IBS

ASD

Acne

Frequent infections

Rheumatoid Arthritis

MS
Abdominal Pain & Reflux
and many more
Your Naturopath at TruMed will help you decide whether Food Sensitivity or Food Allergy Testing is appropriate for your case.
Supporting Studies
Our Naturopaths have run thousands of food allergy and sensitivity tests and have seen benefit in many of our Edmonton patients. Here's some supporting studies regarding food sensitivity testing that mirror some of the clinica results we see every day at our Naturopath Clinic.
IBS

A 2004 clinical trial with 150 patients suffering from IBS, were put on a diet based off of their individual IgG food sensitivity test results. After 12 weeks there was a 26% reduction in the IBS symptom score

Our Naturopaths typically see more profound benefit from Food sensitivity testing in our IBS patients when it's the appropriate test chosen for a given person's IBS.
Not all IBS patients have sensitive foods.

This testing must be chosen when the history and dietary analysis dictate that this is the best test to be run.

Don't worry! Your TruMed Naturopath will help you choose the best test for your digestive issues!
Migraine

In a 2010 clinical trial 30 patients with migraines had their IgG Food sensitivities tested. The authors concluded that diet changes based on IgG food sensitivity testing is effective strategy in reducing how often patients experience migraines.

Our Naturopathic Doctors have seen many patients with migraines improve from food sensitivity testing.
However, at our clinic we look for numerous additional factors in our Edmonton patients with migraines such as oxalates, histamine, issues with cellular energetics and hormone imbalances (eg. estrogen excess).
Crohn's and Colitis (2019)
In a 2019 study 137 Inflammatory bowel disease (Crohn's & Ulcerative Colitis) patients were tested with IgG food sensitivity testing. The authors found IgG food antibodies in 57.5% of Ulcerative Colitis patients and in 90.72% of Crohn's disease patients.

A 2010 study showed benefits in Crohn's disease patients with IgG4 testing which is part of the Food Allergy Testing (IgG4/IgE) which we can also run at our Naturopath clinic.

Our Naturopathic Doctors have seen many IBD (Crohn's & Colitis) patients benefit from food allergy (IgG4/IgE or Isolated IgE) & food sensitivity testing (total IgG).
However, we also screen for flora imbalances (bacteria, yeast or parasites) in our Inflammatory Bowel Disease patients.


Interested in Food Sensitivity & Allergy Testing?
Call TruMed
(780) 757-8378